In 1968 there was much discussion about forming our own fire department that prompted the trustees to call an open meeting for all township residents with many residents attending. The opinion was unanimous to form a volunteer fire department. The township trustees decided to approve the formation of a new department. The first truck purchased was a 1948 International chassis with a 500 gallon tank and a John Beam high pressure pump. It had 13,000 miles and cost $900.00. Three months later a new pumper was ordered and delivered, a Ford F-700 chassis with a 750 gallon tank and a 750 GPM pump and cost $19,118.00. We started from scratch 43 years ago and progressed to a modern-day fire department equipped with the best fire apparatus. Best of all we are debt-free.

We meet every Monday night at 7 pm for training. The monthly business is held on the 4th Monday of the month.
The department hosts three fundraisers each year. The Monte Carlo Nite in January, Pork Chop Barbeque in April and a Chicken Barbeque in September. These events take place at the fire station, 4471 W. Fremont Rd.
The fire department welcomes new members and Bay Township residents are invited to participate. For further information, talk to any firefighter or call me at (419) 276-0394. David Regal, Chief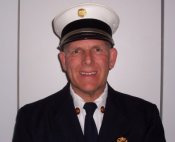 Bay Township Bay Township Hall: 4471 W Fremont Road Port Clinton, OH 43452 Township Office Telephone: 419-734-2876 Township Mailing Address: 5530 W Little Portage Road Port Clinton, OH 43452