Physical Address -Township Hall: 4471 W Fremont Road Port Clinton, OH 43452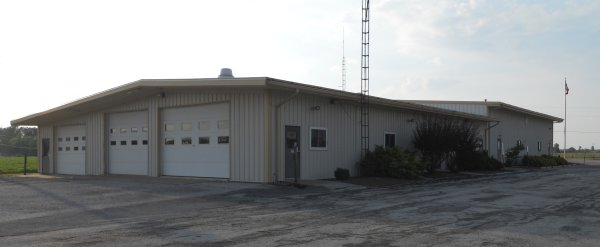 Click Here for Google Map Directions
The township hall is equipped with lightweight folding tables and metal folding chairs. Occupancy of the main room is 110 persons. The facility is heated and air-conditioned and the restrooms are handicap-accessible. The kitchen is fully equipped with a stove with a conventional oven, a microwave oven and a refrigerator. There is an additional refrigerator for food storage in the hall. Any additional items, such as coffee pots, slow-cookers, roasters, cookware, table service, etc., must be provided by the renter. Rental of township hall will be available only to township residents or land owners over 21 years of age and at the following rates: $175 per regular event, plus $300 security deposit, or $50 for day time event plus a $100 security deposit. Rental to members of Bay Township Volunteer Fire Department and members of the Women's Auxiliary for personal use: $75, plus $75 deposit for regular event. A contract must be signed by a township resident for use of the hall except for public events sponsored by the Bay Township Volunteer Fire Department. The resident who signs the contract must pay the rental fee to reserve use of the hall, must pay the security deposit upon receipt of the key, and must be present at all times that the hall is in use. Refund will be made only if cancellation is received two weeks prior to the rental date. Free use of hall will be allowed for public hearings and other meetings as deemed by the trustees as important to the well-being of the citizens of Bay Township. Free use of the hall will be allowed to organized youth groups such as 4-H. An adult must be present at all times to supervise activities. Use of hall will be free for bereavement gatherings after funerals of township residents and land owners. Contact Art Castillo at 419-707-0812 for information about hall rental.
When disaster strikes, people are sometimes away from home or unable to stay in their own homes. Bay Township has established a small shelter for such a situation. The shelter is accredited by the American Red Cross and Disaster Team members also received their training from that organization.
The township has a pantry stocked with basic foods, emergency water supply, cots, blankets and pillows to accommodate about ten people. Battery-operated lighting and auxiliary power has been provided.
Every two years the pantry foods are inventoried and replaced if necessary. The Disaster Shelter team members run through a short drill to recap where supplies and equipment are stored and to review emergency procedures.
Bay Township maintains a "VETERANS' PLAQUE" in the township hall. This lists the names of township residents who were in active military service. For names to be included on the plaque, contact Fiscal Officer Bonnie Kaspar at 419-734-2930.